POWDER COATING
Powder coating is the method of applying dry paint to a surface.  It is a cost-effective alternative to traditional wet paint applications.  It provides a durable and uniform surface on all types of products used by consumers, factories, and businesses. This process is based on the technique of spraying 100% solid coating material (powder) directly onto the surface of the base material. It appears totally different from many of the traditional coating processes as applied and results in a uniform surface finish throughout the substrate.
OUR IN-HOUSE POWDER COATING
Larsen Manufacturing, an industry leader in Precision Sheet Metal Fabrication and Metal Stamping is adept at powder coating and has substantial experience servicing our customers with this technology. We have been a leading provider of this innovative solution since 2017. Larsen's in-house powder coating helps us to control the quality and lead time.  This is really important and helpful for those companies who value wish to offer their clients faster and better services.
YOUR BENEFITS OF IN-HOUSE POWDER COATING
Speed, quality assurance, and cost control are the major advantages of in-house powder coating when utilizing the services of Larsen. We are well aware that other manufacturers outsource their power coating work resulting in longer lead times. Cosmetic factors such as scratches, grind marks, non-uniform thickness, and color-mismatches are all reasons why Larsen stays ahead of the competition by having total control.  Also, with Larsen's in-house powder coating service, we can react to any quality concerns quickly should they arise.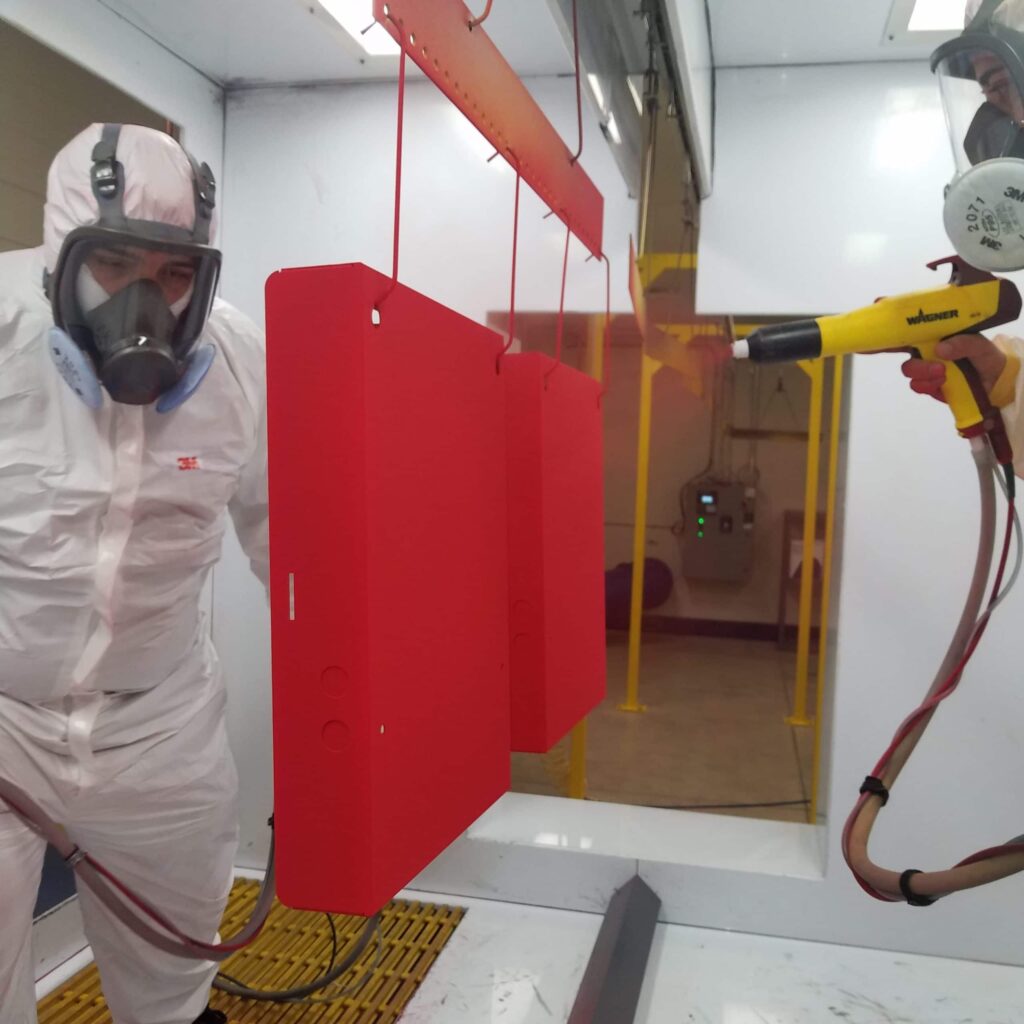 WHY LARSEN CAN BE YOUR ONE-STOP-SHOP
Larsen Manufacturing offers in-house painting services and focuses heavily on customer satisfaction. Our paint line is a custom system with a five stage wash. Though we could accommodate automatic guns, we are currently using manual guns and spray-to-waste as this helps us make quick color changes. We do long production runs as well as multiple color changes on a given day. Our experience shows that this system's flexibility really benefits our customers. Our application process takes place in a clean, temperature-controlled environment using only virgin powder.
We expect to expand our current process and in near future, adding automated guns in order to automate the line as much as possible. Our booth size will expand as well. This expansion will allow us to take on more "paint only" opportunities. We will still be capable of handling smaller runs via manual sprayers as needed.
THE LARSEN ADVANTAGE
In-house powder coating has positively influenced several aspects of the business.  Speed to market on new projects is essential in order to grow your business.  By having our own powder coat line, we have been able to service the prototype market effectively.  We have also been awarded some legacy stamping work that requires powder coating now that we offer this service.  Our customers appreciate the positive impact on quality and lead time we gain by having in-house powder coating.